Meet us this Saturday at Straight For a Community Health Event!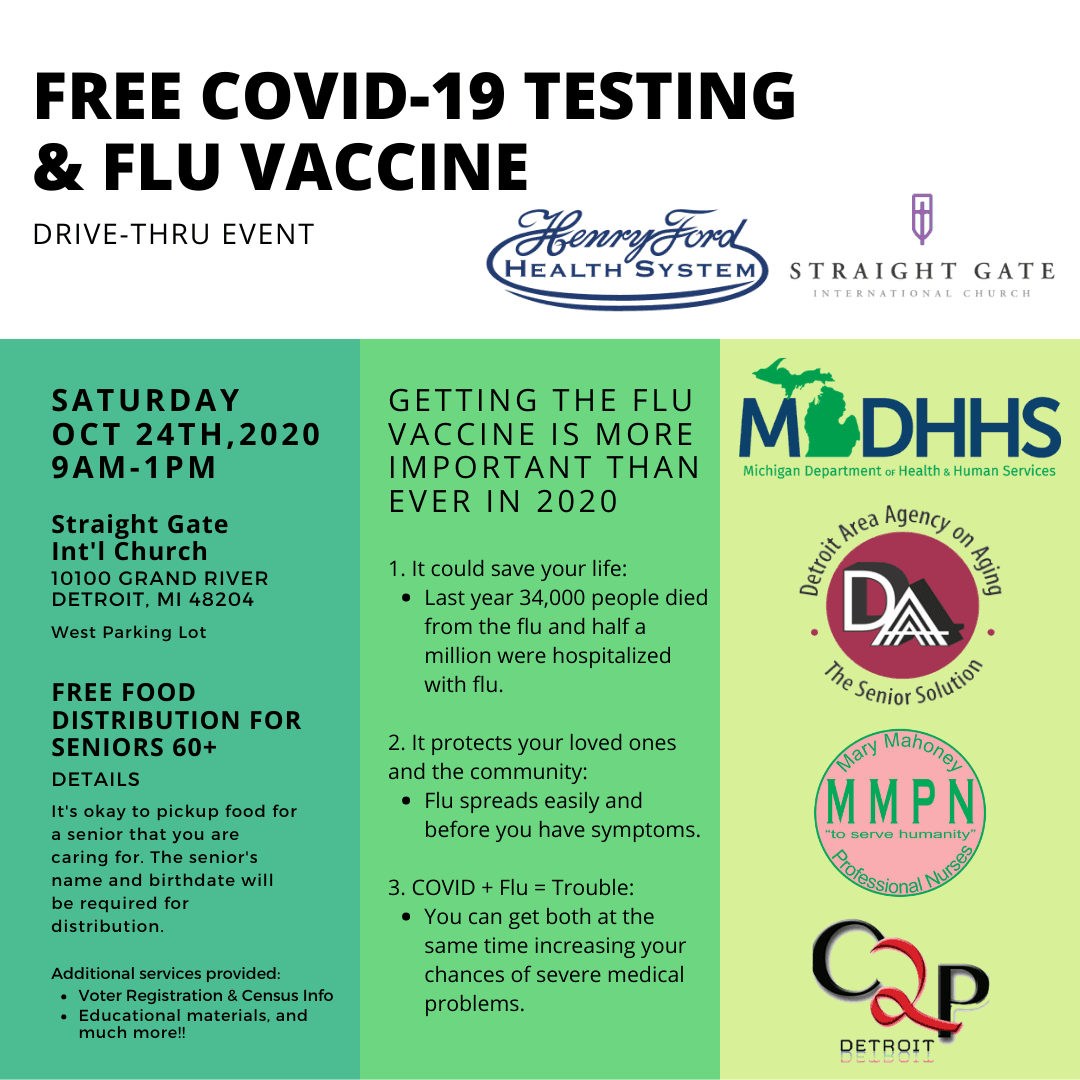 Food Assistance Partnering with Forgotten Harvest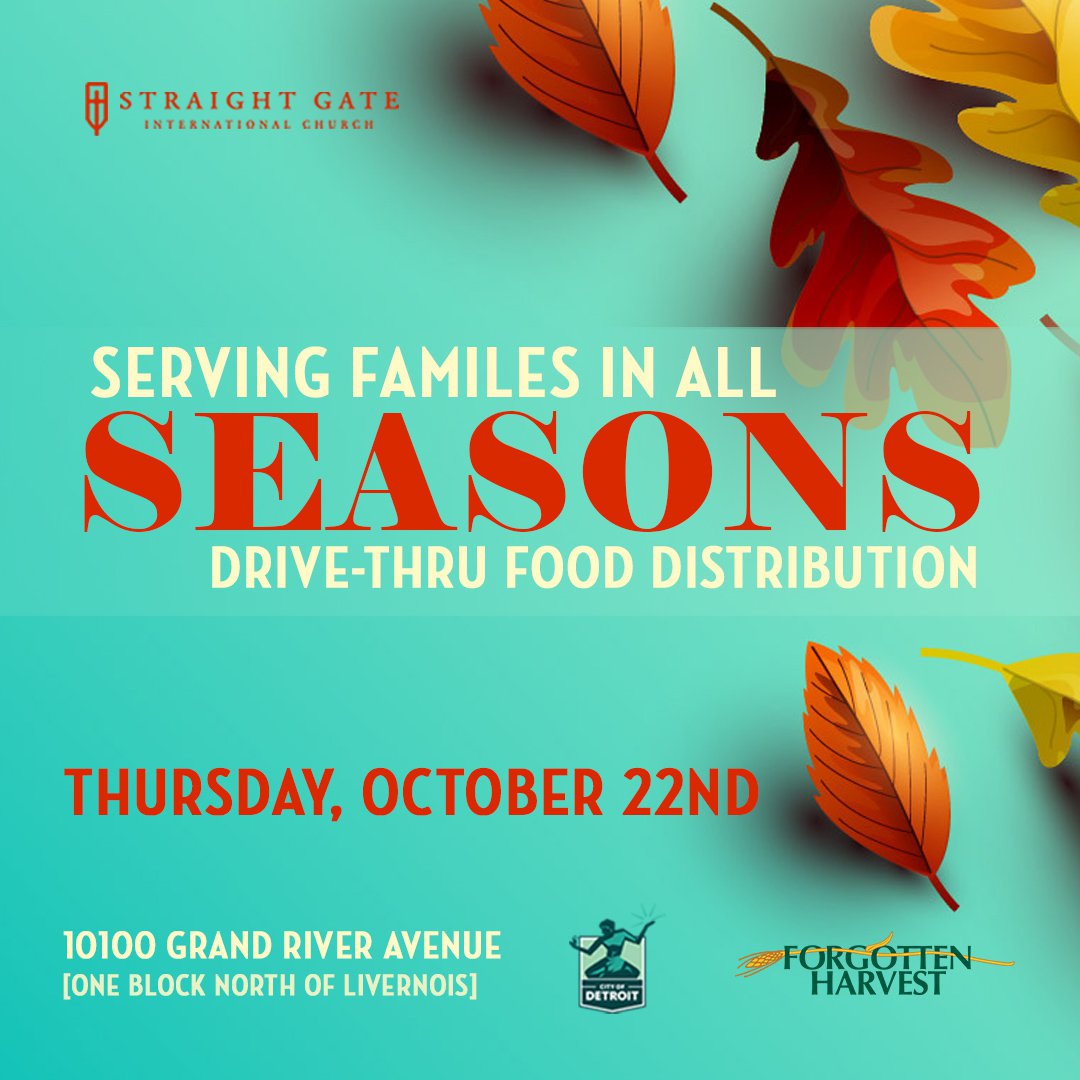 Every other Thursday, at 9am, meet us at Straight Gate for Food Assistance partnering with Forgotten Harvest. Our next event will be Thursday, October 22nd at 9am.
Convoy of Hope Food Assistance
Drive-In Service Recap
Providing Food for Those in Need During This Time
Official Statement from Bishop Andrew Merritt - May 1st, 2020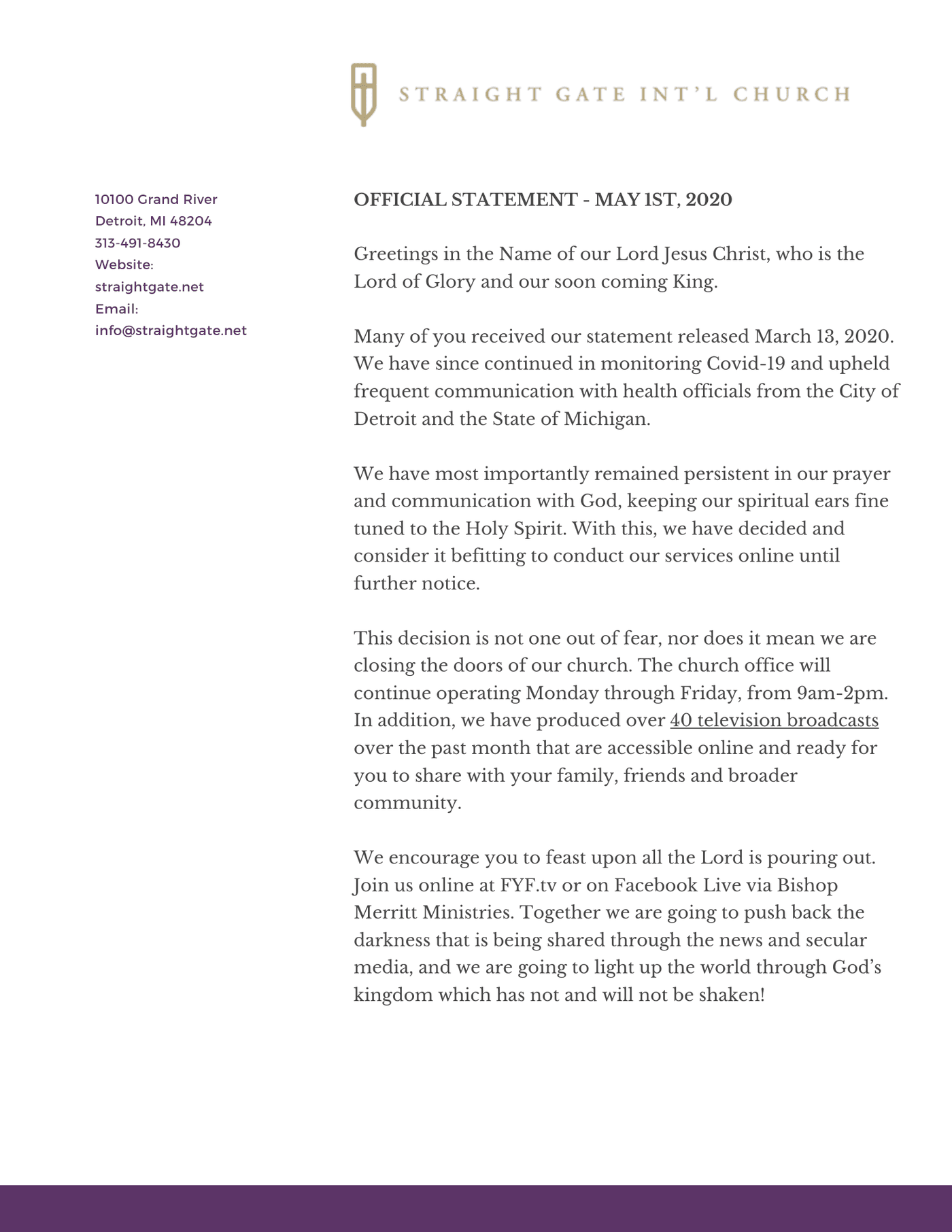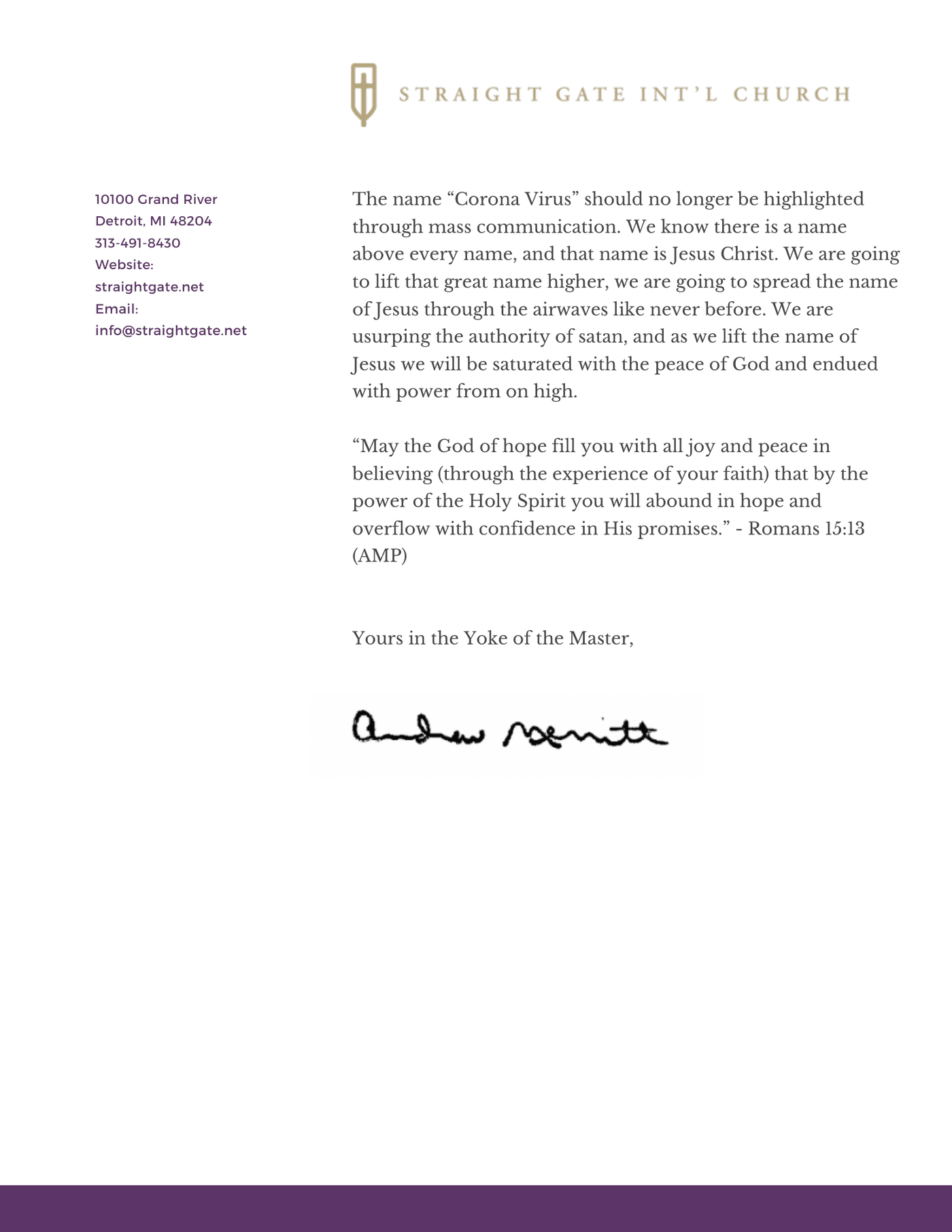 How Can I Still Sow My Tithes and Offerings During This Time?
2. Text to Give:
Text your Donation Amount to phone number 84321
Example: $250 tithes $50 offering to 84321
Click the link that is texted to you
Type "Straight Gate" to find our church when prompted
Click Straight Gate church logo
Finish by entering your name, email and card information
3. By Mail: 10100 Grand River, Detroit, MI 48204
4. By Phone:
Call the Church Office, (313) 491-8430, during business hours
Or call 1-877-6MERRITT
5. In Person: During business hours (M-F, 9am-2pm)
FindingYourFocus.tv - Our 24/7 Network is Expanding
In addition to our Sunday and Tuesday services being streamed live on FYF.tv, you can watch Bishop Andrew Merritt live at 11am, Monday-Friday, throughout the week. Your Faith is Taking You Someplace!

Over 190 LIVE Broadcasts have been produced at FYF.tv since March 20th! They are all at your faith disposal right now...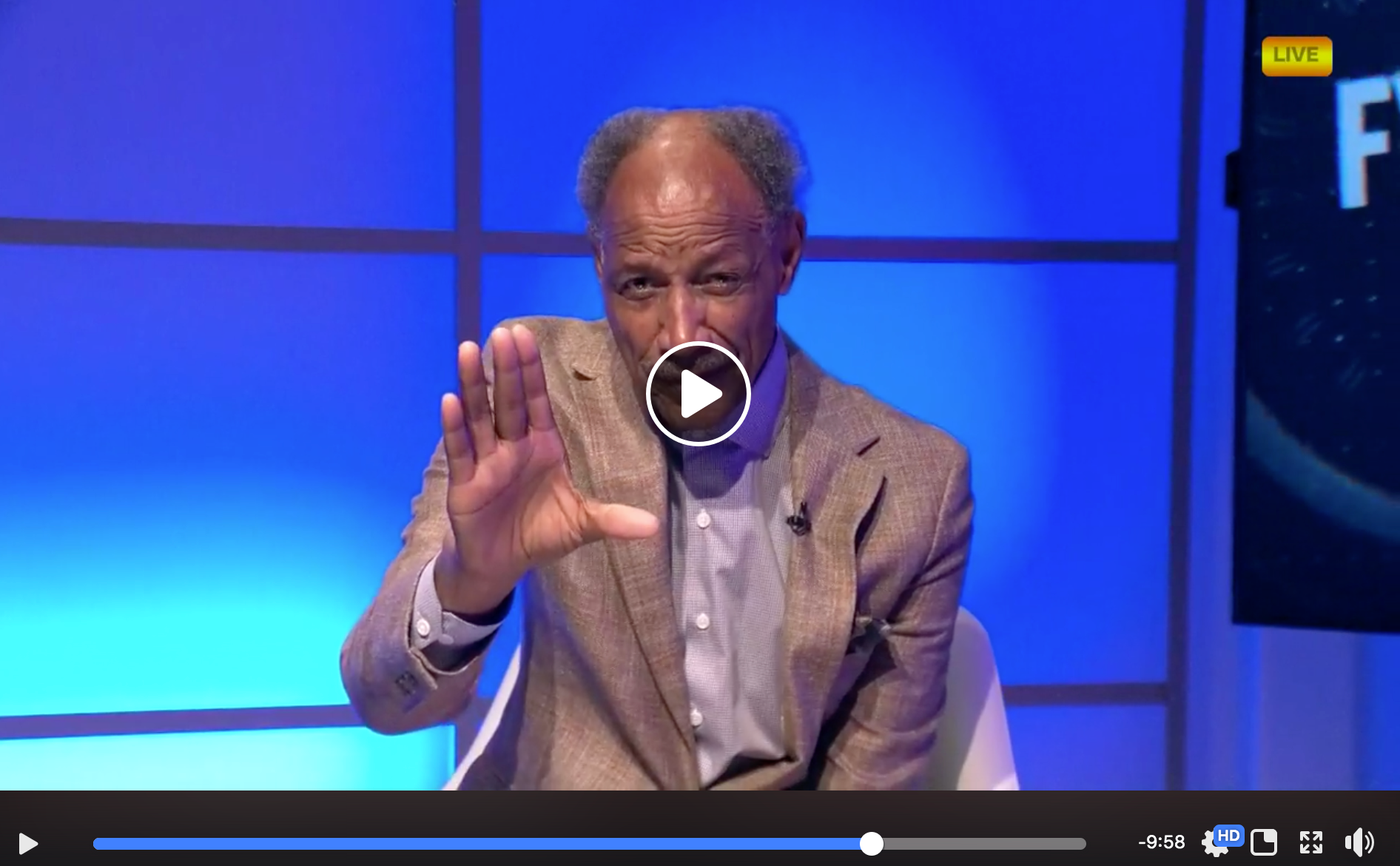 Ask the Lord to lead you in selecting 5 Straight Gaters to call and check up on! We are a ministry of LOVE and can share God's love wherever we are. And let's try to reach out to those you aren't currently communicating with. Even if you don't have their contact info, let's get it from someone else.
We are a SUPERNATURAL CHURCH, composed of SUPERNATURAL PEOPLE, doing SUPERNATURAL THINGS! Straight Gate International Church - God Bless You!
Prayer for Our Frontline Workers